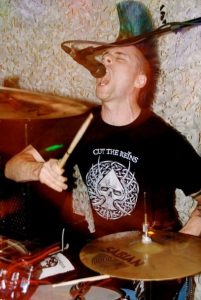 Jim has been playing in bands since 2001, mostly as a drummer and vocalist, but also on guitar and digital programming. His live performances have ranged from grotty rural pubs playing to one person with a dog on a string, to big stage festivals with crowds of thousands, as well as numerous tours of squat venues across Europe and a tour through South East Asia. Jim is currently drumming with Lawfucker and programming beats with Them'Uns. More below – DIY or die.
Lawfucker
2017 – current (drums)
Belfast-based d-beat punk band. New record coming soon:
Krass Kepala (Indonesia), Feral State (Leicester), Ravage (Indonesia), Lawfucker (Belfast) – 4way split LP (Winter 2020) by UP THE PUNX records
Them'Uns (feat. Yous'Uns)

2018 – current (programming and vocals)
Hip-hop/dance project based on the north coast of Ireland.
Die Wrecked
2012 – 2015 (drums and vocals)
UK82/anarcho punk band from Leicester, England.
The Lobotomies
2005 – 2010 (drums and vocals)
Hardcore punk band based in Belfast.
Pocket Billiards
2007-2011 (drums)
Big brass ska band from Belfast.
Gulder
2016-2018 (guitar and vocals)
Anarcha-feminist folk punk band based in Belfast and the north coast.