****This call is now closed****
English — Français — Português
Anarchism and Punk – edited volume

There has been a wealth of excellent writing about punk over the last few years. The best of these have been the critical reflections that pull free of the quagmire of 1970s nostalgia, and the critical engagements that see beyond the narrow scope of punk's Anglo-American birthing ponds. This Call for Chapters proposes to continue and extend that exciting work by considering in closer detail the relationships between anarchism and punk, with a contemporary emphasis and a global spread.
Whilst anarchism has been well recognised as punk's primary political companion, it is of course not the case that all punks are anarchist, nor that all anarchists are punk. Even within the 40+ year entwinement of punk and anarchism, the relationship has been far from straightforward. In the coming together of two such multifaceted entities, fractiousness is to be expected (perhaps even embraced).
Views on the relationships between anarchism and punk are wide-ranging. There have been outright rejections of punk by 'materialist' anarchists worried about punk's apparent lack of historical awareness or its 'lifestylist' leanings. And, equally, there have been punk-anarchist rejections of the 'old guard' of the anarchist movement and its preoccupations with the faded memories of failed revolutions. In a less adversarial vein, other analyses have pointed to punk as an invigorating force for moribund or repressed anarchist movements worldwide. There have been recognitions of the value of the practical example of 'anarchy in action' provided by DIY punk's cultural production, and of the importance of 'punk spaces' such as squats and social centres in sustaining anarchist activist movements. All over the world, punk continues to play a role in politicising new generations of anarchists, almost always under the radar of the mainstream media, and often unbeknownst to academic researchers.
But none of these views are likely to go unchallenged, and that lively debate is what this volume hopes to tap into. We invite contributions that reflect on the interrelationships between anarchism and punk in particular times or places, or that consider how punk does (or does not) manifest specific aspects of anarchist political philosophy, or that draw comparisons between punk and other anarchist-inflected music cultures and art movements.
Some thought-provoking questions, to which you might respond or take as a point of departure:
What lessons can other milieus of the anarchist movement draw from punk's longevity and impressive global spread?
Is the relationship between punk and anarchism substantially distinct in 'other' world contexts (especially in the 'Global South')?
Can punk's success in 'taking back the means of cultural production' be replicated in other realms of production (whether social or material)?
Is punk well-placed to respond to, or resist, or escape, the neoliberal capitalist world? Or is punk just another harbinger of neoliberalism's seemingly irresistible advance?
How do punk scenes respond to life under socialist/communist states and governments? Or to life under fascist/authoritarian/totalitarian states and governments?
What intervention can punk culture (or punk counter-culture) make in the 'culture wars'?
In our era of perpetual crisis, what role can/do punk scenes play in providing focal points for resistance and mutual aid?
How has punk responded to radical ideologies other than anarchism (Marxism, autonomism, socialism, feminism, environmentalism)?
How has punk interacted with specific social movements (Black Lives Matter, antifa, Extinction Rebellion, trans rights, anti-globalisation, Occupy, disability rights, Food Not Bombs, LGBT, squatting)?
How does punk challenge, or fail to challenge, the patriarchy? Does queer punk look different in diverse global contexts?
What does the prevalence of veganism in punk culture tell us about tensions between individual consumer choices and activism? How do other punk behaviours and consumption practices relate to anarchism?
In what ways does the prevalence of anti-theism in punk reflect anarchist anti-theism and anti-clericalism?
How does the relationship between punk and anarchism compare with other anarchist-associated music cultures or art movements? (Hip-hop, rap, dance, rave, folk, anti-folk, metal, jazz, kraut rock, ska, avant-garde, rebetiko, corridos, no wave, Irish rebel music, ad nauseam!).
Please feel free to expand beyond these questions in your contributions.
****This call is now closed****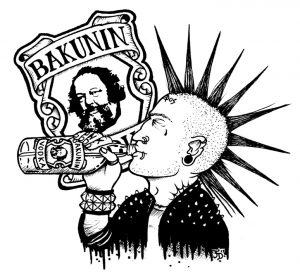 Editors:
Will Boisseau – will.boisseau [at] hotmail [dot] com
Caroline Kaltefleiter – Caroline.Kaltefleiter@cortland.edu
Jim Donaghey – jim.donaghey@ulster.ac.uk
Timeline:
23 November 2020 – Call for Chapters disseminated.
20 January 2021 – Please send 250-300 word abstracts to the editors by 20 January 2021 (to the email addresses given above).
21 June 2021 – Subsequently invited chapters, of between 5,000 and 8,000 words, to be submitted by 21 June 2021. Chapters should be written with a general readership in mind.
Winter 2021/22 – After review and revisions process, the book is under agreement to be published with a well respected radical (and punk friendly) publisher. Details to be announced.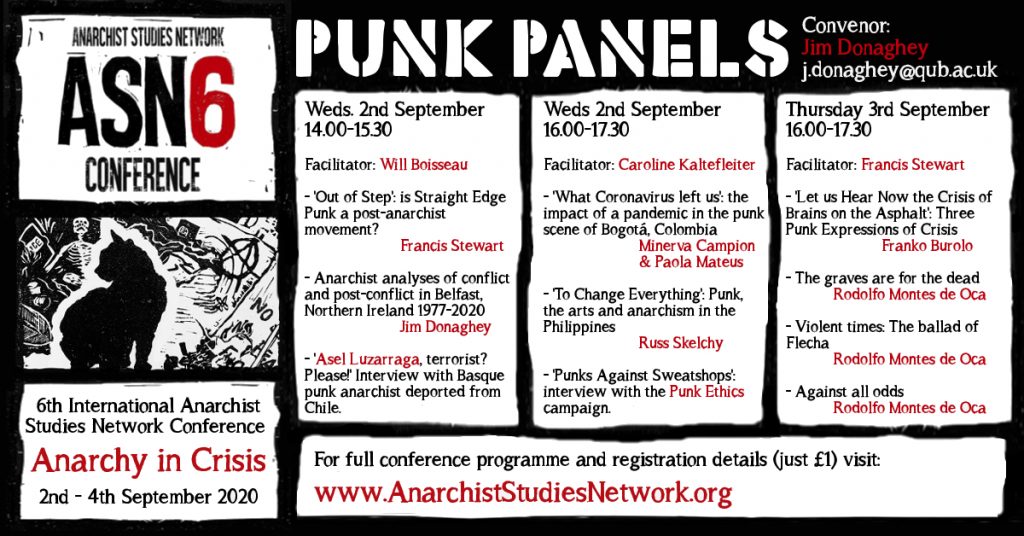 This project emerges from the 'Punk Panels' of the 6th International Anarchist Studies Network Conference of 2-4 September 2020. You can view a selection of contributions from those panels here:
****This call is now closed****